NOVEMBER 2006: "Where the Heck Are TC & Bob!?!?"
(Note: First time visitors might want to click on the "2005 Monthly Pages" link and read that introductory page. Enjoy!)

All righty then, for those of you who expressed an interest in learning where we are in Panama, and even for those of you who didn't, I've put together some map links that will lead you to our location. The links open in new browser windows so you'll be able to have more than one opened and be able to move back and forth between the maps and my descriptions. Enjoy!
(There's a new gallery link at the bottom.)

First, to see Panama and how it is situated in Central America, click HERE.

Second, continuing to zoom in, you'll find a map of Panama which pinpoints Altos del Maria by clicking HERE.

Now, if you want to pursue us further and actually see a map of Altos which displays our lot, click on this link: AltosDelMaria.com.

When the map loads, you'll be able to zoom in on lots and move the frame back and forth over the development by either using the icon controls at the bottom or your mouse (drag the map to move it, while double-clicking zooms and centers on wherever you choose).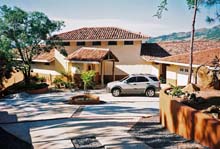 Now, to find us, zoom in and look for the picture of a helicopter. Our lot, #42, is above that image, near the dead-end of Livorno. Casa Ingaso faces due south, straddling the lot approximately where the lot number (42) lies, maybe just above it.

As you can see, we are almost surrounded by green belts, which are delineated by creeks and streams...during the rainy season. In the dry season they are more appropriately called "wadies," after the Arabic-speaking countries' dry washes.

As for pictures this month, you can click HERE to begin my latest attempt at "documenting" life at Casa Ingaso!
Ciao, TC & Bob

[click here for December's gallery—there is no home page...]

[or click here for 2007's pages...]