JANUARY 2006: "Life Between Two Seas!"
Seeing as it's the beginning of a new year, this will be the new beginning of Casa Ingaso's web site. To look at last years pages and pictures click on the "2005" link at the left. It will take you to the familiar trials and tribulations of our first ten months living in Panamá, and more specifically, Altos del Maria.

Unfortunately, I can't add Casa Ingaso to that list, for we have yet to move-in. There seems to be some law of diminishing returns at work: the more that's done, the more that needs to be done. Every week is an anxiety-riddled period of wondering whether we might be able to make the transition by the weekend, followed by the crushing realization that we won't. It's especially maddening because Ingaso is looking sooooooo good right now (Check out 2006's first gallery pages). Painting is finished, tiling is done, fixtures are in, etc., but the kitchen is still in disarray and there is no front door. We'll work around the kitchen, but a front door seems sorta necessary in a sissy, namby-pamby, don't-wanna-camp-in-the-jungle way. But, the front door is being worked on, so they tell us, and with it's installation we will initiate our final move.


TC's sister, Jessica, is visiting this month. She hoped to be the first one to use the guest room...she's still hoping. The fact that the guest room is more or less completed, ready for occupancy, only further whets her appetite for exclusivity: "I can stay there and keep an eye on things, until you guys can move?" It seems sorta befitting that she would be here to unpack all the boxes she helped us pack so long ago in Ventura, California. In fact, her airfare was our show of appreciation for all that she did back in those days of yore, days that seem so far removed from my memory as we are from Ventura. Hoohah! There is really very little of our lives in Ventura that I care to remember...

At any rate, I've been remiss in my writings of late, but you'll have to excuse me by realizing that the pending move, and all its demands, saps me of my literary spunk. Let's hope things are better when I'm sitting pretty in my new office at Casa Ingaso!

Oh, just for the fun of it, I should tell you of OUR New Year's Eve. The electricity went out! TC and I were at Lamelot, too sick, too beat, and too bewildered by moving logistics to party (yes, for once in our life TC was sick for the holidays, go figure), but we had a bottle of champagne and a will to stay up. And then the lights went out. ¡Allã la peste!

Sitting there in the glow of emergency lanterns we realized we could just as easily sit in the same glow at Ingaso. So, with bubbly, treats, and seats in tow, off we went. We set everything up on the newly completed extension to our pool deck, and sat back to enjoy the show: a moonless night, blown clear by a strong sundowner, and now crystal with millions of stars close enough to touch. The electricity going out was a good thing: an invitation to our first night star-gazing at Ingaso. Whoops, I forgot the frog...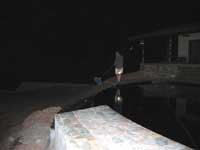 Before we could sit back and enjoy the evening, there was the little matter of a big frog in the infinity pool. We didn't noticed it in the lantern light, but it made the mistake of splashing. Realizing what it was, I grabbed the pool skimmer and made a quick pass at it, but it submerged and swam to the other end of the pool. I followed, skimmer basket poised, lantern in hand, trying to scoop-up the recalcitrant amphibian, but it alluded me, and finally slipped over the infinity edge.

You know that saying: from the frying pan into the fire? That's exactly what the frog did—there's no way out of the overflow tank, the sides are too high. So, without too many attempts I was able to bag my prey—"Frog legs, anyone?"—and catapult it back into the ravine from whence it came. After that, we sat and enjoyed our unlit New Year's Eve.