MARCH 2005: "Back home at La Estancia!"

During our property-hunting trip to Panamá in 2003, we stayed at La Estancia Bed and Breakfast, owned by Tammy Lui and Gustavo Chan. It was serendipitous. We were charmed right from the start, and remained in contact with Tammy and Gustavo during the intervening years; even sending friends to experience Tammy and Gustavo's hospitality. So, we knew that was where we wanted to be when we alit again in Panamá.


Edwin, one of the new driver/tour guides at La Estancia, stood at the airport waiting for us, holding a sign that simply read, "TC and Bob." You can't imagine how good it felt, after tortuous hours on planes, then stumbling through customs, and finally dragging our weary bones and baggage through the terminal to find a friendly, smiling Panamanian, wielding a welcoming sign with our familiar monikers on it. We were home. Edwin instantly became our compadre.


When TC e-mailed Tammy for reservations, she wrote back to see whether we would like to care for the B&B while she and Gustavo went to her brother's wedding in Hong Kong—she knew we had done the same for Dennis, our B&B friend in Sedona, Arizona. We didn't think it would be any big deal, so we said, "Sure."


When it got closer to the actual date, however, Gustavo—quick, intelligent, all-knowing Don Gustavo—realized it would be better for him to stay in Panamá, since La Estancia was booked solid. (The bookings were due to the new version of Lonely Planet's Panamá Guide naming La Estancia as one of the author's favorite places to stay.) It was definitely the right decision, for there's no way we could have handled all the requests and arrangements and comings and goings in English, much less Spanish. Yikes! Gustavo, on the other hand, took care of everyone without a hitch...although, he did develop a slight twitch in his right eye.


At any rate, for us La Estancia was the perfect place to stay our first two weeks back in Panamá: close to all the places we needed to go in the city, yet tucked on the opposite side of Cerro Ancon (Ancon Hill) where it's quiet and peaceful, and overlooks the canal, the Bridge of the Americas, and is only a hop, skip and jump from the Hill's nature preserve—although, TC didn't like the way the evil-faced monkeys watched her as she walked up to the top of the Hill. Despite the monos (monkeys), La Estancia's traits are really appreciated after a hectic day dodging demolition-derby traffic downtown and out-waiting the "there's not enough red tape" bureaucrats.


Thank you Tammy and Gustavo.


Besides meeting several potential and future Altos neighbors at La Estancia (it seems to be a way station for them), we also got to know Gustavo a lot better, if only because there was no one else around for me to pick on! (I do love it so.) At any rate, a bond was created (he needed someone to pick on, too, after all) and nothing sealed it more distinctly than our wayward key capers.


First, one of the other guests locked his keys in his room then left for the day, so we helped Gustavo break in to retrieve them. It turned out to be a lot more difficult then I thought, and the door jamb needed extensive repairs by the time we were done.


Then, I forgot my buttpack at a restaurant 40 kilometers out the Pan-American highway. So, TC and I took off, praying my wallet and everything in it was still there, but in our "panic" we forgot that we had been moved into a new room that day and, inadvertently, took our old room keys with us; we were halfway to the restaurant before we remembered. Too late, too late.


Later, after joyfully discovering that not only was my buttpack awaiting me, but everything was still intact - something unexpected, even in the States - we returned to La Estancia to find Gustavo had to put us back in the room we had vacated due to our shanghaiing the keys. He also had to work things out with the guests who had reserved that particular room.


Gustavo made merry with that goof, I can tell you, especially coming as it did after the previous llave (key) escapade. The two events were "key" (pardon me) in strengthening our close relationship. And that relationship still proves to be particularly rewarding, because Gustavo is related to everyone in town, or so it would seem. He was in the tile import business, and since we are in the tile-buying business for Casa Ingaso, we take full advantage of his knowledge. It's funny, but every time we ask him about this tile place or that, he says something like: "It's good. My cousin's place." Or, "Not so good. Godfather of brother's son. Not so good." We learned to take his advice. We ignored it on only one occasion and it turned out to be a mistake.


Even though Gustavo told us to open a bank account with HSBC Bank, we went with Global Bank because they had a branch in Coronado, a posh beach community just down the hill from Casa Ingaso. We thought that way our builder could easily cash our checks and pay his men. Guess again! Our faux pas held up construction for weeks. In fact, it took more than five weeks for Global to finally open our account so that we could make the first payment on Casa Ingaso. Meanwhile, Gustavo had introduced another American couple to HSBC and they got their account in 3 days. Now, we always take Gustavo's advice.


If you are familiar with the movie Bull Durham, then you could say that we are now the older and wiser Tim Robbins' pitcher, who has finally surrendered to the wisdom of Kevin Costners' catcher, and only hurls the pitches called. High and away? OK. Low and inside? No problem. HSBC bank? You got it!


But alas, poor Gustavo, we now ask him about everything! Not only, "Where's the best place for tile?" But, "How about granite? A good acupuncturist? What car should we buy? How do you get to Tumba Muerto (a street)? Where should we eat? Good cheesecake? Does this helmet make me look fat?"


I knew I had found a soul mate for sure after I received his emailed response to that last question: "Oh, my friend, you look fat with or without the helmet."


Fortunately, Gustavo is a glutton for punishment. He deals with each and every request with the same humor and honesty. Well, except for that bit about the helmet; and here I thought, for once, it would leave him at a loss for words. Little did I know. Served me right. At any rate, I wonder whether it would be stereotypical to say: he is a wise Chinaman.


The icing on our cake came when Gustavo allowed us to use Panoramic Panamá's office to work on a client's web site. Anyone who's e-mailed me in the last three months has probably heard of "The Web Site": a rather large, multi-faceted site regarding the printing industry with all its news and goings on. We tried to do it before we left the States, but due to delays on all sides we wound up working on it at La Estancia, and on a laptop to boot.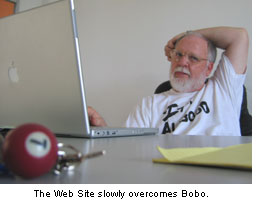 It was hectic, it was a challenge, it was nerve-wracking (thank God for Xanax!), and it was fun in a geeky, learn-something-new sorta way. Despite the hardships—"Where's my G5 and my dual-monitors!?!?"—we managed to pull it off. "Phew..."


All in all, we had a great stay with Gustavo, and were sad to leave La Estancia. But, even though we've moved now to Altos del Maria, we go back to the city on nearly a weekly basis to pursue official documents or find something or other for the house—pursuits inevitably time consuming. So, we usually spend the night with Tammy and Gustavo, making the trips less nerve-wracking and more fun.