FEBRUARY 2005: "Hold on to your hats and glasses, folks!"

The first order of business was selling TC's mother's house, my share of my mother's house, and everything else we could possibly live without. Garage sales, garage sales, and more garage sales - we lost count - yet still we had enough stuff left to fill most of a 40' sea/land shipping container! Now that's a lot of stuff.


Anyway, slightly dazed and marginally out-of-phase, we must be the only people who would have trouble selling a beautiful, two-story home two blocks from the Pacific in one of the most desirable neighborhoods of Ventura, California - it was on the market forever! And thoughts of packing and moving receded in proportion to the length of time the house didn't sell - we felt stuck in it, like forever. We were getting desperate, losing hope, but the darkest hour is always right before the offer—a contingency, but we didn't care. It was an offer!


[Click the image for more pics...]


Well, the contingency cutoff date came and went, then came and went again, and then again. No other offers were coming in, so it turned into a "let's see how long it takes them to sell their house" scenario. But then, suddenly, one day all the waiting was over: the realtor called.


"We have a buyer and they want a 30 day escrow!"


"Yikes, are you kidding us!?!? 30 days!?!?"


Now, all those months of penny-ante packing came back to roost with an accusatory thud. We had four weeks to pack up our lives, get rid of the rest, and setup all the logistics for the container, movers, helpers, final payments of every kind known to man, and the paperwork necessary to begin life anew in Panamá.


"Suffering cats!"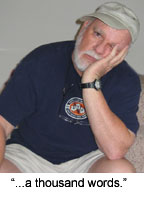 Of course, levelheaded TC, self-possessed and just full of aplomb, got right down to business without a hitch. On the other hand, me, bevel-headed Bob, self-alarmed and just full of gas, got right down to my pharmacopeia and began popping Xanax and 800 milligram Ibuprofen tablets, and I wasn't too concerned if a Darvocet or two happened to find their way into the mix. My motto has always been "Better living through drugs!" (You see, I go along with Tom Waits: "Reality is for people who can't face drugs.") Of course, I wasn't a lot of help in that condition, but neither was I as much of a hindrance as I might've been.


You take the good with the bad.


According to TC everything was moving right along, no problem, at least until she called the trucker who was going to haul the container from San Pedro to Ventura and back.


It was Tuesday afternoon, about 15 hours before the container was supposed to pull up in front of the house. The plan was to load up the container Wednesday, the day before escrow closed, which would give us lots of time to cleanup and get rid of the last level of detritus we didn't know what to do with. Only one problem: the container couldn't make it!


Since the L.A. Harbor was so backed up, they wouldn't allow full containers to sit on the docks for more than a week, and since our shipping date was more than a week off they wouldn't release our container to the trucker until the following Monday. No one was clear on why the trucker hadn't called or when he planned to call. And this was the trucker who was charging three times the going rate just because no one else wanted to drive to Ventura.


What to do? There we sat - TC, Bobbo, and Sister Jessica - staring at each other and taking turns saying, "Oh shit!"


But, TC being TC, she went to the web, typed into Google "international shipper los angeles," then called the first one listed: Shipping International in San Francisco. When she was routed to a man named Medi, she said, "I need a miracle. Can you perform miracles?"


Well, it turned out that he couldn't, but he came pretty damn close. Medi was able to get a container to the house Thursday morning at 7:45 am. Wow! And that was after TC had spent nearly six months in contact with the other shipping coordinator, who hadn't been able to provide any solution to the exorbitant trucker or the tardy container. Go figure. Hooray for Medi! Too bad he also wasn't in charge of the moving men who arrived two hours late Thursday morning and didn't even bother to say sorry or explain the delay. Don't you just love it?


That name again of our shipping savior, for anyone contemplating an international move, is Medi at +1.800.962.4715.


Fortunately, escrow was delayed until 2 pm Thursday, and that's just what was needed. The container pulled away at 1:45 pm, the driver paid for four hours of overtime, two caused by the late movers, and the movers paid for their tardy though competent work. We had all of fifteen minutes to clean the house and jettison the stuff we didn't know what to do with. Accordingly, the new owners found a little more than they had bargained for, especially when they look on top of the boards in the garage rafters! Eh, eh...mum's the word.


Anyhow, that last week before the close of escrow was a week from hell. Following it, we had five days before our flight to Panamá, so we spent them at my mother's beach cabin, licking our wounds. You know what? Pour enough champagne, you don't feel 'em anymore!